Hey Friends!  I wanted to share a bathroom makeover with you that I did this year.   We went for a bit of a boho theme with some pops of color.  I'll share a few tweaks I made that really changed the character and the before and after pictures. I'll also break down the cost for you at the end!  Enjoy!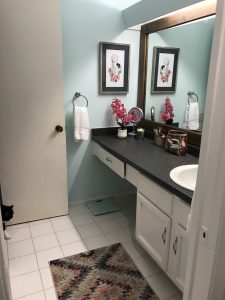 I obviously painted the entire bathroom but one of the bigger changes I made was to frame the mirror.  I used 1×4 that I stained and then attached with command strips.  I went with a medium stain color to help bring in some warmth to the space!  I also wanted to find a great rug that brought in more color and pulled together the art I had picked out.  I fell in love with the piece above – it's a girl holding her big black and white cat!  You can see Chrysalis's Chief Gravity Officer aka Bogey the cat, walking in above! 🙂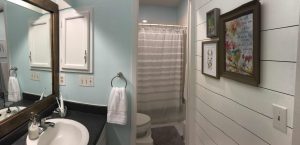 One of my favorite things that I did a faux shiplap wall.  I had seen another blogger try it earlier in the year and knew I wanted to do it for some project.  This wall had originally had wallpaper so it had never been textured.  That made it the perfect surface to paint white and create faux shiplap.  All you need is white paint, a black sharpie paint pen and a nice long straight edge.   I did my lines 6″ apart and I really like how it turned out.  Of course if you get really close it's obvious it's faux, but it gives a great impression of the real thing if you aren't paying attention.  (My lines are straight, it's just the pano making it wiggly.)  (Also, this is an even easier project with a second pair of hands)
I also did a DIY art piece on the shiplap wall that I love!  I bought a shadow box and a mounted a succulent inside.  Very easy and affordable and a unique touch!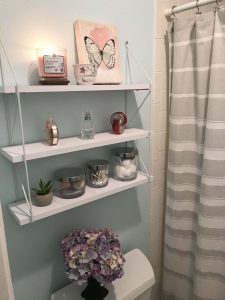 I ordered this really cute white shelf to add some storage over the toilet.  I love shelving over the toilet.  It's a great space to use open shelving and add some character while also adding some function.  If you are in a darker space with minimal light, glass shelving is a great option as well.
Here is a comparison of the before and after pics!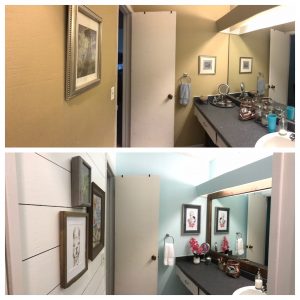 The total project cost less than $250 in supplies.  Here is the breakdown:
Art – $50
Shelf – $45
Rugs – $55
Frames for Mirror – $25
Shower Curtain – $16
Faux Shiplap supplies – $6
Paint – $25
Flowers/Greenery – $15
If you have a bathroom makeover that you want to tackle and just need a plan, let me know!  I can help put a design plan together for you to follow for a very affordable amount.  See you later, friend!