DIY Fall Decorations using Nature
Fall is here and most people like to bring a little fall decor into their homes. I've got a few ideas for you to make yourself using nature.
Pumpkins
We typically like to carve up our pumpkins but painting them can look really good too! Paint in varied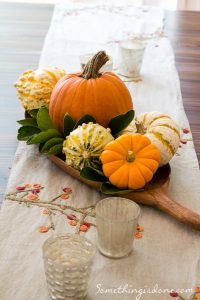 fall colors or go monochrome and do a sweet cream or gold color on everything. You can free hand or use a stencil to letter each pumpkin and spell out FALL!
You could also take various materials like string, twine or ribbon and cover your pumpkins for a unique texture.
Jack-o-lanterns don't have to stay outside. Carve up some smaller pumpkins and leave the tops off and you have unique candle holders to add to your dining centerpieces.
You don't always have to go big. Buy smaller pumpkins and gourds and stack them in a large bowl as a seasonal centerpiece for your coffee table.
Take small pumpkins and write guests name on them for natural place cards. Each guest can take home a little bit of decor as a gift!
Leaves
This is one of those things that will make your wallet happy! The nice thing about leaves – they are free!
You can start by using them as art. Find some really pretty ones and frame them!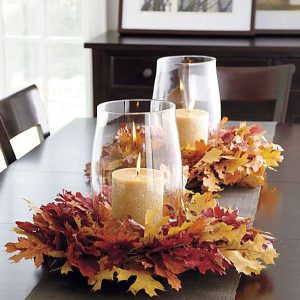 Glue leaves on a string and you can hang as a banner across your mantle or attach them to sparkle lights for a fall themed mood lighting banner.
Fill a vase with them and it's an instant piece of decor. Or you can put some in the bottom of a vase and use it as the base for a candle.
Speaking of candles you can glue leaves to the outside of a plain candle for custom lighting.
Dry leaves and you can use them to write your guests names on them and use as place markers.
Branches
While branches don't look like much by themselves they can be stunning together. Pull together 4-5 branches in a vase for a branch arrangement. You have a lot of options here. Leave them plain or add other decor like dried berries or dried flowers. You can also spray paint your branches for a more upscale look. If you like a bit of sparkle, paint them and then spray them with adhesive and sprinkle your choice of glitter over them.
A cool branch is also a great option for hanging other decor or fall art. Maybe get the kids to help make a fun felt hanging and use a branch as your hanger.
Stumps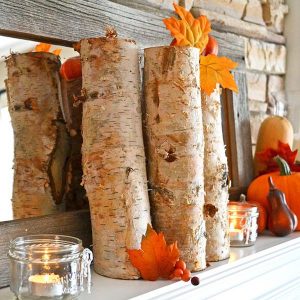 Stumps are so versatile. Smaller branches can be cut into different height cylinders and then drilled into to create candle holders. Larger stumps can be used to hold multiple candles.
If you have larger stumps, you could have them sliced then and use them as chargers. Go the extra mile and personalize them with fall sayings.
Multiple branches or stumps can be used as a background or to stack other decor on.
Dried Corn
Dried corn is one of the prettiest fall decor pieces in my opinion. And the options are endless!
Stack whole cobs on a tray or tie whole cobs together and hang from your mantel.
Fill glass jars with individual kernels for display.
Take an old frame you don't use anymore and glue the kernels on in neat rows or in a random pattern.
Take a small shadowbox and glue the corn in a sunburst pattern on the inside of the glass for custom art.
Acorns
You can do a lot of the same things with acorns as you can with dried corn but because they are a little bigger you have a few more options.
Acorns work great to add as a bit of detail in a table. Take a handful and spread them around.
Glue them onto a wreath form and tie a beautiful bow on for a custom door or wall wreath.
The possibilities are endless! How have you turned nature into custom decor?